We believe that our clients deserve nothing less than the best possible services and this is why we have tailored our furniture collection options in full accordance with the highest international standards of the removal industry. We are professional and experienced movers and we have the needed resources to easily and quickly haul any quantity of furnishings from point A to point B.
We have been in the moving business for a number of years and we know it like the back of our hands. The job for furniture collection in London will be done in a timely fashion with no unnecessary delays. To date we have never failed to meet a deadline because we are diligent, professional and punctual professionals and more importantly because we are always ready to go to the next level and work round the clock if the job demands it.
Your furnishings will be packed meticulously
Since the opening of our London removal firm we have always emphasised on safety and this is why we use top notch packing and protective gear to ensure the wellbeing of the hauled furnishings. We use packing supplies such as:
Bubble wrap
Furniture blankets
Packing peanuts
Cushions
Wooden crates
Straps and belts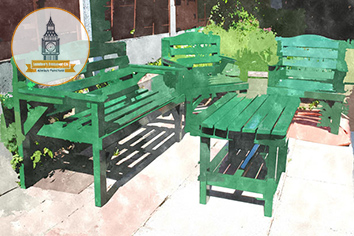 Don't worry about the glass elements of your furniture as we will remove them and pack them into our high quality hardtop containers. After all it is not by chance that to date we have never had any accident while handling a furniture collection in London.
Our employees are highly qualified and capable professionals who can easily disassemble even the most complex pieces of furniture. So, don't worry if your furnishings are too bulky or heavy because our workers will find a way to bring them to you. Even more, they will happily lend you a hand with the assembly of your furniture once we have delivered them to you.
We can haul both commercial and household furniture
To us it doesn't matter whether we have to move domestic or office furnishings because we have the manpower and technical capacity to handle both jobs with flying colours. We work in full transparency, so don't worry that we may keep you in the dark or shock you with hidden rates. Our quotes are final which means that once your project is over you will owe us what we have state in our quote. Bear in mind that you can benefit from our special discounts if you are a loyal client or use several of our services simultaneously.
For further information regarding our furniture delivery services in London we invite you to explore our website or to get in touch with us via telephone or e-mail.
As you have already understood our company operated within the English capital, London. The city is the most populous in the United Kingdom and is home to numerous world famous landmarks such as the Palace of Westminster, Buckingham Palace, Wembley Stadium, Kew Gardens, London Eye and the Elizabeth Tower which is more commonly known as Big Ben.