You can reach London's Removal for affordable and reliable van hire service at any time of the day. Our leading experts will provide you with a clean vehicle that is perfectly suited to the requirements of your upcoming relocation job. No one can compete with us when it comes to quality of the service and the price it comes on, and our van hire in London options do not make an exception to that rule. Check them out and see for yourself.
Why van hire in London?
Many people who have smaller and not-so-complex moving projects on their hands prefer to handle the job on their own instead of hiring a professional moving company. If you are one of those cases, you are still going to need a proper vehicle for the job, which is where our van hire in London option comes in.
Our state of the art moving vans
Our fleet of vans consists of many vehicles that are:
New and well maintained
Thoroughly cleaned after every moving job they have been used for
Equipped with state of the art GPS navigation system
Supplied with loading and safety gear
We are certain that no matter what sort of relocation you are planning to use the van for, you will find the vehicle you hire from us to be more than suitable for the requirements of the job.
Packing supplies and assistance for your moving day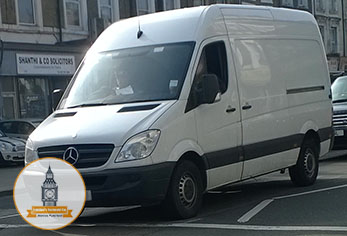 In addition to a quality and very reasonably priced van hire service, you can count on us for helping you manage the packing of your goods for the road. Packing is an integral part of every removal, so even if the particular job that you are handling right now is small and seemingly simple, you cannot afford to make compromises. Get high quality packing supplies – double walled removal boxes, wrapping etc. – from us. They will come on a reduced price and along free very useful packing tips.
A van to cover all your needs
The hire a van in London options that we offer you here would be perfectly suited to the requirements of a variety of moving jobs, including but not limited to:
Small domestic and commercial relocations
Student removals
Single item relocations
Furniture removals
Piano removals
Small time removals of any nature
You can count on our complete support throughout the duration of your moving project, as well as free moving advice from our experts provided over the phone. As we have already mentioned, our prices are rather reasonable, which is yet another good reason for you to consider us.
24/7 customer support
If you are interested in our van hire in London offers, please do not hesitate to get in touch with our polite and knowledgeable customer support team either over the phone for:
Further information
Reservations
Free no obligation quotes
We can be reached both over the phone and via email.
London is one of the most popular tourist destinations in the world. The annual expenditure by tourists in the past several years have exceeded 15 billion GBPs. If you find some free time around your relocation, you can go with the flow and visit some of the famous attractions in the capital, like British Museum, Tate Modern, National Gallery, Natural History Museum or the famous wax figure museum of Madame Tussauds. A walking tour through the London Zoo might also be a good idea if you are looking for a way to distress and relax after a tough relocation, or just a week at the office.