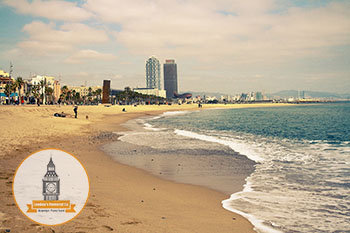 The Spanish city of Barcelona lies in the autonomous community of Catalonia and is considered by many to be one of the most beautiful cities in the world. Reputed as a vibrant place, it attract millions of visitors on a yearly basis and some of them like Barcelona so much that they decide to return but this time as permanent residents. Here are several intriguing facts about the city that will certainly make you considering moving to Barcelona.
Beaches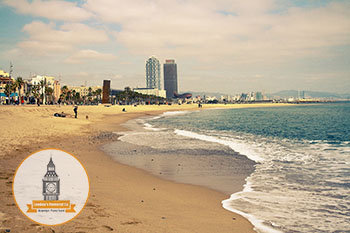 Let's commence with the obvious! Barcelona is situated on the eastern coast of Spain and therefore is home to some of the best beaches in Europe and the world. The city has long kilometres of beaches which meat the Mediterranean Sea and attract both local and foreign travelers by the numbers. La Barceloneta is arguably the city's most famous beach but tends to be extremely crowded. You can however find quiet and peaceful beaches on the outskirts of the city and in the nearby beach villages.
Climate
Barcelona is renowned for its warm Mediterranean climate. Meteorologists have calculate that the city benefits from approximately 2.600 hours of sunshine annually. So, if you don't like rain and you rather feel the sun in your face, Barcelona is not only a good location for you, it is the perfect one.
Local cuisine
The city is home to a large number of world famous restaurants which offer to their guests both local and international delicacies. Barcelona is credited to be a gastronomical capital and is renowned for its mouthwatering seafood dishes. So, if you like tasty food and delicious desserts, Barcelona like certainly treat you well. Keep in mind that the local cuisine is also reputed to be one of the healthiest on the planet.
Public transportation
Barcelona has a comprehensive and reliable public transportation network which consists of metro, buses, trams, trains and cable cars. The city's subway systems is comprised of eleven lines and allow residents and tourist to quick travel from one point to another without much complications. Since 2007, the city has adopted a bicycle sharing system which people can use to cover small and medium distances in a cheap and environmental-friendly way. Barcelona's bicing network is regarded as one of the best in Spain in Europe as it features an immense fleet of bicycles and more important a well-planned grid of bike paths.
Nightlife
Very few cities in Europe can rival Barcelona when it comes to lively and dynamic nightlife. The city is home to numerous high profile bars, nightclubs, public houses and entertainment venues which welcome thousands of guests on a daily basis. Areas such as Raval, Las Ramblas and the Gothic Quarter are renowned for their dances parties and pulsating nightspots.
Open spaces
The city is home to a total of 68 public parks of which:
12 historic open spaces
5 botanical/thematic gardens
6 forest parks
45 urban public spaces
Park Guëll is beyond any doubt the most popular park of the city. It was established in 1914 and was designed by the renowned Catalan architect Antoni Gaudi. The park is one of the several UNESCO World Heritage Sites which are located in Barcelona.
Public services
Like all major cities, Barcelona provides an abundance of public services to its inhabitants. Also given the facts that many British regularly move to the city, there are numerous London based man and van companies which conduct affordable property removals between the two cities in order to ease and speed up the relocation process.
Festivals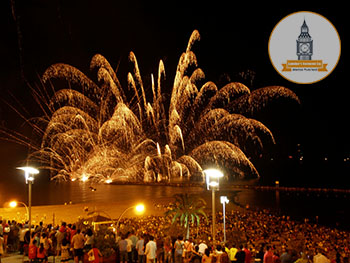 Barcelona hosts numerous festivals throughout the year. La Mercè is undoubtedly the most famous festival to be held in the Catalan capital. It was first organised in 1687 and since then is being held during late September. The event observes the Roman Catholic feast day of Our Lady of Mercy and is identified as an official holiday since 1871. The festival spans for a week and stages over 600 events throughout the various streets, museums, parks and plazas of the city. The latest statistics show that La Mercè attracts an estimate of two million visitors per year. Other known events to be held in Barcelona are the Sónar Festival and the Primavera Sound Festival.
Safety
For a large cosmopolitan city with a population of over 1.5 million people, Barcelona is classified as relatively safe. It is so because violent crimes such as homicide, armed assaults and others are extremely rare. In terms of crime, pickpocketing in highly touristy areas is the most common issue, so you should roam through these sites with extreme vigilance.
Architecture and landmarks
Architecture aficionados are in love with Barcelona as the city is home to a wide number of different architectural styles which range from gothic or modernism. It is also the location of several of Gaudi's buildings including the Sagrada Familia which is unquestionably Barcelona's most recognisable, visited and well-known edifice. Other notable landmarks are:
Montjuic
Museu Picasso
Font Màgica
Casa Batllo
Casa Milà
Christopher Columbus Monument
Sagrat Cor Church
Football
Football is like a religion in city due to the presence of the Futbol Club Barcelona. The team is among the most successful football clubs in the history of the game and currently plays in the top tier of professional Spanish football. It plays its home matches are the Camp Nou stadium which is a prominent local landmark and one of the largest football venues in Europe and the world with a capacity of 99.354 seats. The city is also home to another team that plays in the Spain's top division, Reial Club Deporitu Espanyol de Barcelona which is shortly known as RCD Espanyol.
Accessibility
The city of Barcelona can easily be accessed from literally any point on the planet as it is served by its own international airport, Barcelona-El Prat Airport. It is also home to the Barcelona Sants Railway Station which maintains both local and international lines. Last but not least, the city is also served by its own seaport which welcomes cruises on a regular basis.