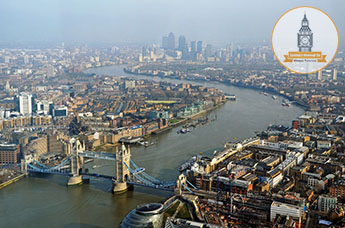 Many people dislike living in big, crowded cities. In the case of London, you can bet that one is in a position to find everything that is to be dislike about the globalized mega-polis in one place. There are however many good reasons for you to actually be happy about living in this beautiful capital of ours. Let's have a look at some of the best reasons to like living in London, besides the fact that there are all sorts of comfortable and easily accessible professional services available here.
London is truly the best city to live in
If you are living in London, this means that you are living in one of the oldest cities in the world that are still thriving – and actually rising in size and importance throughout the centuries. As you may already know very well, London was built by the Romans in the first century AD as a military camp, and became the capital of the kingdom after the Norman invasion. Throughout the centuries it has been the capital of the largest empire known to man, a place where the Industrial Revolution began and thrived, a political and cultural, not to mention financial centre with no equal anywhere on the globe. There is no way that living in such a place would not be a rewarding experience. Signs of the glorious past and promising future of London are to be found all across the territory of the present day metropolis. After all, this is the reason why tens of millions of people, both English and foreigners come to visit London as tourists on an annual basis.
Many people do not like living in big cities because of the pollution and the constant hassle and stress. London is probably among the few exceptions to the rule that a big city is generally a grey one. Quite the contrary, our capital is the greenest metropolis of its size and scale on the planet. According to the estimates, as much as a quarter of the whole territory of London is covered by open green spaces – public parks, gardens, forests and commons. And as for the stress – surely, there is a lot of traffic and crowds in Central London, but no one says that you should be living there. There are quite a few very good suburbs both in South London and in North London that will provide you with the peace and quiet that you have been craving for.
Another con of living in London which often comes up is the fact that life here is very expensive. No one can argue that – in order to maintain a good standard and even think about buying a home here, you would have to get a solid income. But it should be duly noted that here in London you have much better career opportunities than anywhere else in the city. No matter what your hopes and dreams are, the capital is the place where you will find people, companies and institutions that will help you make them come true. So things are actually kind of balanced, don't you think?