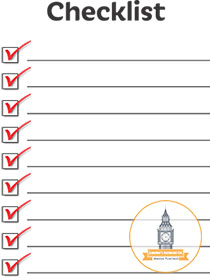 In order to make your removal as easy as possible, you need to create lists for different tasks. This will ensure that you do not forget certain errands to run or tasks to complete.
Packing supply list
You need to go shopping. This time, however, you need to create a list of packing supplies that will save both time and effort, so you do not make trips to the store to get different supplies. We have a list of what you will need, and all you need to do is to decide the quantity of items you will need.
small/medium/large/extra-large moving box
china barrel
electronic box
wardrobe box
small/medium/large mirror box
cell pack
packing tape
moving blankets
bubble wrap
box cutter
labels permanent markers
inflatable bags
foam
stretch wrap
Address change list
Moving is the period when you forget stuff. But, when it comes to changing your address, you need to be very careful. You need to be updated about your mail, whether it is bills or magazine subscriptions. So, in order to continue being in contact with everybody, you need to stick to the following checklist to make sure that those who need to be notified about your move know you have a new address.
power
gas
water
telephone
trash
cable
internet
housekeeping
garden and pool services
banks and loan institutions
insurance companies
tax services
social security
pension benefits
vehicle registration/driving licence
income tax
unemployment insurance
newspapers/magazines/books
Information to know regarding movers
Remember that, when finding a moving company, you need to ask a million questions so that you get all the right answers that will lead to a right decision. Choosing a moving company is crucial in goods transportation so you need to choose wisely. London's Removal is a company that will surely meet your needs (and we've made you this excellent moving checklist) and provide service you are looking for, but, before making a decision, you can ask movers to provide you with following details.
ask to provide references and/or unresolved complaints
ask them to provide a registration number with DOT
ask if they provide international shipping service
are there additional fees? Which?
ask if they provide storage. Rate?
ask if they provide packing services. Rate?
ask if they provide binding or non-binding estimates
let them tell you more about insurance
ask about high-season and low-season rates
ask if they offer any discounts or reduced rates
Essentials box list
After you move, those first days in your new place will be tough because you have so many things to do that you do not have time to enjoy your new home. Well, at least yet. However, you will still need to eat, sleep, shower, rest, etc. So, it is necessary to create a to-do list of supplies you will need during first couple of days. Just remember that the truck with your goods won't be arriving for days so you need to pack items you normally use daily. These items should be packed into your essentials boxes:
dish soap
toilet paper
towels/rags/sponges
kitchen knife
scissors
flashlights/candles
tape
small appliances (toaster, coffee maker)
dishes/pots/pans
pet food/dishes
medical kit
shampoo
laundry soap
trash bags
These checklists are aimed to help you be more organized so that you have time to focus on other things that need your attention.